In today's age of ecommerce, it is imperative that you secure customer information.? We highly recommend you always get an SSL from your web host and they will install it for you.? Once they install it, you can download a simple plugin to force SSL onto the /cart and /account pages in wordpress.? This way customers will automatically get forced into https:// secure pages and see a padlock in their browser.? To do this, complete the following steps:
Contact your hosting provider and ask for them to setup an SSL Certificate on your server for your website. This is typically around $100/year.
Download and install the "WordPress HTTPS (SSL) plugin, located here.
Edit your cart and account pages and check both boxes, the "Secure Post" box, and the "Secure Child Posts"
Save the pages and you are done!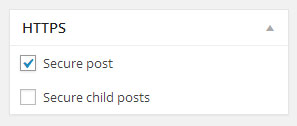 mcorley
https://blog.wpeasycart.com/wp-content/uploads/2018/01/easycart-logo-1-11-2018.png
mcorley
2014-01-23 01:35:08
2018-08-27 15:01:55
How To Securely Process a Credit Card in HTTPS